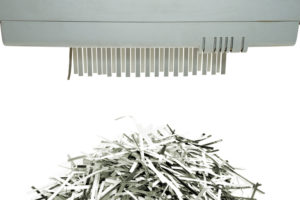 A high security shredder provided by Data Destruction Services located in Shirley, MA is an essential tool for any organization or individual that handles sensitive information.
Whether you're a government entity, a financial institution, or small business, a high security shredder can help protect your confidential data from falling into the wrong hands.
A high security shredder has the following important features.
The ability to shred paper into small particles.
Ability to destroy CDs, DVDs, credit cards, ID cards and much more.
Ensures confidential data is destroyed.
At the most basic level, a high security shredder is simply a machine that shreds documents. However, not all shredders are created equal. A standard office shredder may be fine for shredding old bills and outdated memos, but it is not designed to handle sensitive information. On the other hand, a Data Destruction Services high security shredder is specifically designed to destroy such materials in a way that makes them impossible to reconstruct. This is important for two reasons. First, it makes it much harder for someone to reconstruct confidential information. Second, it makes it much harder for someone to recycle the shredded paper and use it for nefarious reasons.
Data Destruction Services provides a high security shredder that can destroy other types of media besides paper, such as CDs and DVDs. They can also shred outdated credit cards and old ID cards. This is obviously important because many sensitive documents are now stored on electronic media‌, and it is essential to have a workable way to destroy these types of media in a secure manner.
It's important to consider your specific needs when you are choosing a high security shredder. For example, if you have a large volume of paper to shred regularly, you will definitely want to contact Data Destruction Services. But, even if you have a small office and only shred a few documents a day, they can come in and provide help.
A high security shredder is an essential service for any organization that handles sensitive information. For all your shredding needs, contact Data Destruction Services. They are ready to assist you with high security shredding.