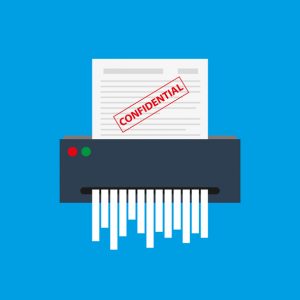 You find yourself with a large amount of private or personal information. If this happens to you, you will want to contact one of the many professional shredding companies just to make sure you destroy these materials properly. The best company to call is Data Destruction Services, located in Shirley, MA. We will provide you with the greatest assistance you will find anywhere.
The first question, and probably the most important one to ask of any professional shredding companies is; How is the material destroyed? Rest assured, when you contact Data Destruction Services, our trained, uniformed staff will pick up your materials and securely transport it to our protected shredding facility. This is where we place all your sensitive information into our industrial shredder, which is capable of serious carnage. It shreds over twelve-thousand pounds per hour.
Why should you consider shredding?
Protection from identity theft.
Ensure compliance with state and federal laws.
Save time, money and possibly your reputation if you experience a data breach.
Protect the privacy of customers.
Help the environment as shredded documents are recycled.
Once we have sent your materials through the shredder, and we make sure it is no longer viable, we will give you a "certificate of destruction". When professional shredding companies deliver this certificate, it confirms that we have eradicated the materials you gave us. This is an extremely important document, so be sure to keep it on file to show that your company is complying with all federal and state laws.
If a supply container is required, professional shredding companies, will provide containers. If you are doing a one time cleanout, or even a regularly scheduled service, we will deliver a secure container for your materials. A one time cleanout or a purge of sensitive materials is an ideal cost-effective solution to get rid of large volumes of material on an as needed basis.
Does the materials we provide need to be in boxes? No, not at all. You can give it to us in piles, file drawers, bags, or boxes. However, you can provide the materials to us is fine. How you provide materials to professional shredding companies isn't as important as just getting this material to us for destruction. You don't even have to worry about staples or paperclips. This will save you a ton of time because you don't have to go through everything and make sure any metal has been removed. Our industrial shredder enjoys ripping these apart, almost as much as paper.
Hidden fees. Some professional shredding companies might do what they say, but then when you get the bill, there are hidden fees they did not make you aware of. When you work with Data Destruction Services, you will not have any hidden fees. No fuel surcharges. No trip fees. No container rental fees or anything else. You will receive an easy-to-read bill with no hidden fees‌.
Guess what? We even provide residential shredding. We will be happy to come to your home and securely handle all of your shredding needs. When you need professional shredding services contact Data Destruction Services.