Secure Document Shredding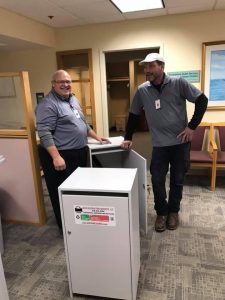 Data security has become a major concern for businesses and organizations large and small as bad actors have been increasingly exploiting digital and physical security gaps to steal valuable data. As a result, secure document shredding has become even more crucial as an effective way to keep important information safe from prying eyes – from corporate competitors to common criminals. Fortunately, Data Destruction Services, LLC, based in Shirley, MA provides the area's most reliable and secure document shredding to help you protect your business, client, and employee records.
Here at Data Destruction Services LLC, we offer a number of benefits with our professional, secure service:
Uniformed, screened and insured employees
Comprehensive criminal, employment, and credit background checks
State-of-the-art, secure industrial shredding units
Environmentally-friendly service
Competitive pricing
With the amount of public and private information growing exponentially every year, secure document shredding is also an ideal solution for staying ahead of growing piles of paper documents that can take up valuable space and waste employees' time filing, managing, and securing printed files.
If you think third-party, secure document shredding is an expensive luxury, think again. Hiring an outside professional service can save you money. No need to buy expensive commercial shredders for in-house use that wastes even more employees' time repetitively shredding documents when they could be performing productive, more valuable work. There's also less waste because professional shredding and recycling keep waste paper out of landfills and in circulation longer for less overall waste and reduced waste disposal costs.
Upon completion of secure document shredding, you'll receive a Certificate of Destruction that identifies what and when documents have been destroyed to prove regulatory compliance. We even supply secure containers to safely store paper and digital media until it is picked up for transport and destruction.
Don't be a tempting target for data theft. Keep your old digital and paper files secure with thorough, documented data destruction by the experts here at Data Destruction Services LLC.