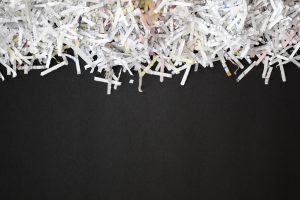 Data Destruction Services, LLC. located in Shirley MA, is ready to assist you and your customers from identity theft. Our shredding services will save you time, money and your reputation.
Why would you want to utilize Shredding Companies? The reasons are simple.
An information breach could cost you millions of dollars.
Your customers expect you to protect their privacy.
Office shredders are messy and time-consuming.
All of the documents we shred are recycled.
Information has become the new currency in today's business world. Data has become more valuable than we ever could have imagined. Shredding Companies keep your essential information away from competitors and cybercriminals who are always looking to take advantage of a momentary lapse in security.
Did you know that data has become so important that the Federal Government has even passed numerous laws to protect it? Shredding Companies plays an important role in doing just that, with laws recommending shredding personal and corporate data as the best way to keep data safe.
When you become a valued client of Data Destruction Services, Inc, you'll have the peace of mind that comes with the knowledge that your valuable documents are closely managed through the entire process. Shredding Companies, utilize trained, uniformed, and insured personnel who arrive at your location for safe and effective destruction. Our "hands-on" client services deliver exceptional results because we are there to support your company with such a sensitive job.
Once our work is completed, you will be presented with a "Certificate of Destruction." This certificate is our guarantee that your material has been destroyed, and it is crucial to keep in your files as it proves Shredding Companies has helped you stay in compliance with Federal and State Laws.
Shredding Companies will handle one-time cleanouts and purges to destroy large amounts of material on an as-needed basis, and we even do house calls. Piles? File drawers? Bags or boxes? It doesn't matter how you keep the documents waiting to be destroyed; our trained staff will arrive with the proper equipment to handle any-and-all of your shredding requirements. You don't even have to take the time to remove staples or paperclips. Our sizable industrial shredder will destroy those materials with no problem.
Don't waste another moment or lose any more money; let Data Destruction Services, LLC safely and expertly destroy your sensitive information. Get in touch with us for a quote right away.